License for Your Own Survey Server
The SoSci Survey questionnaire software can be used either as a Cloud service directly at www.soscisurvey.de – or as software for installation on your company's web server. A software license can be provided free of charge under certain conditions to facilitate teaching at universities.
Advantages: Local Survey Server
Storage of all data (questionnaire, participants' answers, email addresses for serial emails, etc.) on your own server
Use of your own Internet address/domain
Savings on costs for large surveys and/or a larger number of survey projects
Full control over when updates are made
Possibility to directly process the collected data with the access to the available module for automatic data export
Advantages: Cloud Service
Ready to use without installation
Reliable servers in a high-performance data center
Participation in surveys and data retrieval with SSL encryption (HTTPS)
Daily server backups
Regular security updates for the web server
Software updates with new features (including beta features) for SoSci Survey
Feature Scope
The local software installation of SoSci Survey offers the same functionality as our Cloud service (User Manual).
The annual license does not permit third party access to the software, especially not as a rental of the Cloud service.
System Requirements
Our survey servers are responsible for reliably bringing several thousand survey projects online every day. Accordingly, the software's performance has been optimized. As a result, SoSci Survey places very few demands on hardware and software. An average web server (possibly virtualized) is more than sufficient in terms of performance. Even web space options with PHP and MySQL offered by large hosts generally provide sufficient performance. The minimum software requirements are:
PHP from version 8.0 (recommended PHP 8.2)

MySQL database from version 5.7
Annual License for Commercial Users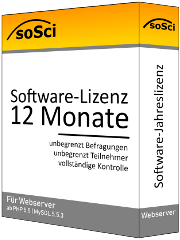 We offer the SoSci Survey software for installation on your own web server as part of the purchase of an annual license. The annual license is valid for 12 months following the purchase date. Upon purchasing an annual license, the software is available for immediate download. The annual license includes software updates for the entire license period. After the license period has expired, the software is automatically deactivated.
There is no automatic renewal (no subscription) for the annual license. If a new annual license is not purchased after the end of the license period, the software must be uninstalled and any backup copies deleted.
The installation of SoSci Survey on a web server is generally not a problem. Should you have questions or experience any difficulties, do not hesitate to contact us via phone and/or email to receive assistance.
Similar to the support we provide to our Cloud service customers, purchasers of an annual license also receive the same reliable online support for the use of the survey software.
University License for Non-commercial Research
SoSci Survey GmbH supports teaching and scientific research both by providing our survey server www.soscisurvey.de free of charge (Free Use) and by providing a software license for operating a survey server at universities (University License) free of charge.